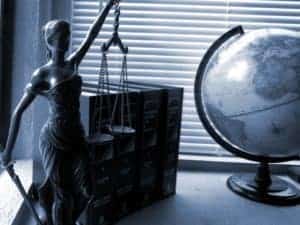 In addition to our criminal defense practice, we practice in the field of plaintiffs' civil rights, which means that we take on cases where individuals have been injured or wronged by the actions of government officials, most commonly the police and the cities that employ them. This blog series is intended to provide information on the legal field of civil rights to prospective clients and the public.  In this first post, we will attempt to provide the basic legal geography of what class of persons and entities are subject to suit in civil rights cases.
"Section 1983"
The starting point for civil rights law is the United States Code, specifically, 42 U.S.C. Section 1983. Section 1983 is a law that was passed by the federal Congress in 1979, and it provides a cause of action to individuals who have been deprived of constitutional rights. The full text of the section reads as follows:
Every person who, under color of any statute, ordinance, regulation, custom, or usage, of any State or Territory or the District of Columbia, subjects, or causes to be subjected, any citizen of the United States or other person within the jurisdiction thereof to the deprivation of any rights, privileges, or immunities secured by the Constitution and laws, shall be liable to the party injured in an action at law, suit in equity, or other proper proceeding for redress, except that in any action brought against a judicial officer for an act or omission taken in such officer's judicial capacity, injunctive relief shall not be granted unless a declaratory decree was violated or declaratory relief was unavailable. For the purposes of this section, any Act of Congress applicable exclusively to the District of Columbia shall be considered to be a statute of the District of Columbia.
"State Actor"
Notice that the beginning of the statute limits the class of wrongdoers to persons acting "under color of any statute, ordinance, regulation, custom, or usage, of any State or Territory or the District of Columbia." This language narrows the scope of persons who may be sued to those who are "state actors" – generally speaking, those who are employed by the government, such as police officers, sheriff's deputies, teachers, school administrators, and municipal or county officers or other government officials acting under color of law. Landlords, restaurant managers, hotel clerks, taxi drivers – these are all examples of persons who cannot be held liable for civil rights violations for the simple reason that they are not state actors. Private conduct, no matter how discriminatory or wrong, will not establish liability under Section 1983 because the defendant is a not acting "under color of law".
This does not mean that civil right claims against private parties may never succeed. It is possible for a "private actor" to be held liable to a plaintiff for damages. There are a number of instances in which the courts have held that certain private actors can be recognized as "state actors" and therefore subject to liability for civil rights violations.  These include:
When the performance of a business serves a "public function";
When the government coerces, influences, or encourages a private party to act in accordance with the government's wishes or desires;
When a private party is involved with the government in a "joint enterprise" or "symbiotic relationship"; and
When the private party is "pervasively entwined" with the government.
"Person"
Under the civil rights statute and case law, a "person" is not limited to an individual human being. Cities, townships, and counties are considered "persons" subject to suit under the federal statute. This means that a person injured by an employee of a city or county may be able to sue the city or county itself in addition to the individual person who caused the injury. Additionally, cities and counties may be subject to suit independently if they have a policy or custom that has caused a violation of a person's constitutional rights. These are called Monell claims, and while less common, we have achieved success in this area.
Most commonly, civil rights cases are brought against government officials, agents, and authorities acting on the government's behalf. Of these, the most frequent civil rights cases are brought against the police for claims including excessive force, unlawful search or seizure, unlawful arrest, property deprivation, and due process violations. In future posts, we will explore these areas. In the next post, we will discuss some of the common claims made by individual plaintiffs against the government. Stay tuned for more in our civil rights blog series.