The Minnesota Department of Public Safety (DPS) issues yearly reports about the car accidents that occur on Minnesota roadways.  In its most recent edition, Minnesota DPS named their report Minnesota Motor Vehicle Crash Facts.  DPS used the term "crash" as opposed to "accident" in the title as an acknowledgement that "the majority of traffic accidents are preventable." Although vehicles' safety features are ever increasing, it does appear that the driving abilities of many of Minnesota's commuters are decreasing.  This article will discuss car accident trends in Minnesota and the advantages of having an experienced car accident attorney on your side if you've been injured as a result of another driver's negligence.  If you're looking for immediate help due to a car accident, please give a car accident attorney from Lundgren & Johnson a call at (651) 888-2937 at your earliest opportunity.
Car Accident Fatalities
The most devastating of all crashes are those that involve fatalities.  Minnesota DPS has identified the following four avoidable factors as the leading cause of car accident fatalities:  speed – 78 deaths in 2015; distracted driving – 74 deaths in 2015; impaired driving – 95 deaths in 2015; and failing to buckle up – 91 deaths in 2015.
In all, there were 411 traffic fatalities in Minnesota in 2015.  The 411 traffic fatalities were an increase of 13.9% from the previous year.  Sadly, car accidents are the leading cause of death among persons aged 1 to 34 according to the National Safety Council.  Without a doubt, the emotional toll of losing a friend or family member in a motor vehicle accident is unimaginable.  What makes it worse is that the vast majority of those fatal accidents could be avoided if drivers slowed down, paid attention, had a sober plan, and buckled up.
The following chart created by the Office of Traffic Safety, included in the 2015 Minnesota Motor Vehicle Crash Facts, provides a visual with respect to the age and gender of crash fatality victims in 2015: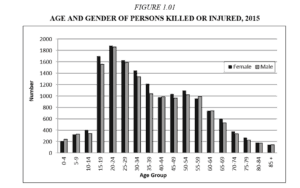 Car Accidents By The Numbers
Although it's impossible to fathom the emotional harm caused by fatal crashes, statistics can help conceptualize the magnitude of the overall motor vehicle accident problem in Minnesota.  The Department of Public Safety has aggregated the total number of crashes in Minnesota and the estimated economic costs of those crashes.  In 2015 there were 74,722 reported crashes involving 138,057 motor vehicles and 181,663 people.  Of those 181,663 people, 29,981 suffered an injury as a result of the motor vehicle accidents.
A further breakdown of some of the numbers:
Of the 29,981 injuries, 1,127 were severe and 7,251 were moderate.
898 crashes involved at least 1 bicyclist. Bicycle involved accidents tend to occur in larger populations.
911 crashes involved at least 1 pedestrian.
One third of all accidents involved only one vehicle.
There were 7,425 accidents where the driver left the scene.
One in five of all deaths were less than 25 years of age.
61 of the accident deaths were motorcyclists.
73.8% of all drivers involved in a fatal accident were male.
113 people under the age of 30 died in Minnesota car accidents in 2015.
Fatal crashes are most likely to occur during the morning and afternoon rush hour periods – 6:00-9:00 a.m. and 3:00-6:00 p.m., respectively.
The highest volume of overall accidents occur between 12:00 p.m. and 6:00 p.m. Overall, the Minnesota DPS report emphasized that afternoon driving is the most dangerous across the spectrum.
The most drunk-driving related fatalities in 2015 occurred from March through July.
While these numbers are staggeringly large, the estimated economic cost is even larger: $1,773,219,300.  That is nearly two billion dollars, with a capital "B".  That averages out to nearly five million dollars in daily economic loss as a result of car accidents in Minnesota.  The report reached this estimated figure by assigning the following approximate values to each category of loss: $1.5 million for death; $88.5K for severe injuries; $25.6K for moderate injuries; $21K for minor injuries; and $4.2K for property damage only crashes.  Those assigned values originate from the National Safety Council, and of course are not individualized to each accident.
Overall Contributing Factors
The Minnesota DPS report also details many factors that contribute both to the frequency and severity of motor vehicle accidents.  For all car accidents irrespective of severity, police most often point to the following driver behavior factors:  driver inattention or distraction, failure to yield right of way, illegal or unsafe speed, and not using a safety belt.  Again, these contributing factors are easily avoidable, yet there continue to be negligent drivers who put others' safety at risk.
The report also explains that the most severe accidents occur during the summer months when drivers feel it's safe to proceed at high speeds, while there are a higher volume of accidents during the winter months, but with less significant injuries.  In other words, there are more fatalities in the warm summer months, but more overall fender-bender type accidents in the winter months.  The report terms this phenomenon as "seasonal variation."
Availability of emergency medical care is also an important factor.  Victims who are treated within an hour of an accident have greatly improved odds of surviving.  A seeming indication of this factor is that 3 of 4 fatalities in 2015 occurred in rural areas – defined as having a population of less than 5,000.  Another factor increasing the dangers of rural roads is the high speeds permitted and lack of interstate-type safety designs.  As an illustration, there were 12 car accident fatalities in Minneapolis in 2015, 11 in St. Paul, but there were 15 in Isanti County, 14 in Olmsted County, and 16 in St. Louis County.
Age demographics also play a role – the younger the driving population the more likely accidents are to occur.  Overall, young people and males are over-represented in car accidents in Minnesota.  As an example, drivers aged 20-24 represented 8.0% of Minnesota drivers in 2015, but comprised 13.4% of all crash-involved drivers.
What An Experienced Car Accident Attorney Can Do For You
You will experience a wide range of thoughts and emotions after being involved in an accident.  You may wonder why this happened to you, how you'll manage the stress of dealing with the other driver and their insurance company on top of all of your other obligations, whether you'll be able to make ends meet while you're getting back on your feet, and whether you'll be fairly compensated for your injuries.  With regard to the first question, the numbers and statistics detailed above may be of some solace to you – motor vehicle accidents are common and widespread throughout Minneapolis, St. Paul, and Greater Minnesota.
With regard to the rest, an experienced car accident attorney can and will help you every step of the way throughout the process.  He or she will explain to you common misconceptions about Minnesota law, such as what being a "no-fault" state means.  Most importantly, your car accident attorney will clearly and succinctly put a plan together for you and explain the steps that will be taken in pursuing your case.  As a victim of a car accident you're entitled to wage loss – both past and future, fair compensation for your physical injuries, reimbursement for property damage, and compensation for your pain and suffering.  Your car accident attorney will ensure that you maximize your economic recovery and receive a fair settlement from otherwise reluctant insurance companies.  You can rest assured that you have a professional on your side familiar with the process and the insurance companies' tactics.  And if you don't make a recovery, you won't owe any legal fees.
Contact A Car Accident Attorney Today
If you've been involved in a car accident, or you would just like a link to the copy of the 2015 Minnesota Motor Vehicle Crash Facts report published by the Minnesota Department of Public Safety, please give a Lundgren & Johnson car accident attorney a call at (651) 888-2937.  Alternatively, you can leave us an electronic message and one of our attorneys will contact you shortly.